OIK
What is OIK​
OIK is the ecosystem token of the Space Nation series of games. The total supply will be 1,000,000,000 and it will be gradually unlocked over a 10-year period. No further issuances will occur. OIK represents all utilities in the Space Nation game series, excluding participation in Space Nation Online. It incentivizes participants to engage in activities such as Space Nation Online IP subsidiary games, community, governance, and more through various use cases. However, it does not affect any economic activities in the games.
OIK will have a well-established mainstream currency pair pool in DEX and will be listed in mainstream CEX for player convenience. In Space Nation DAO, the token stakes for veOIK grant governance rights and benefits. Furthermore, Space Nation Online is the primary and most significant game project in the Space Nation universe, and it is currently our main focus. As the Space Nation universe continues to expand, the utility of OIK will increase. For example, OIK holders will have access to early releases of new projects, benefits in subsidiary games, and airdrop rewards for collaborative brands. We are also exploring potential offline privileges, such as membership to a Premium Club.
Use Cases​
NFT purchase: OIK can be used to purchase officially issued NFTs. On occasion, using OIK will even grant the user early or exclusive access to NFT purchases, such as for a special crew or ship appearance.
Space Nation Marketplace Trading: OIK will be the primary active trading token in the Space Nation Marketplace, allowing users to trade NFTs priced in OIK.
Access to DAO governance & benefits: Staking OIK provides for the ability to obtain veOIK, which serves as a credential for DAO governance and benefits.
Airdrops: OIK holders will have the opportunity to receive airdrops for the Space Nation series of games and collaborative projects.
Rewards from Space Nation Online: Contributors to Space Nation Online shall put themselves in line to obtain OIK as a reward. Different from simply distributing according to the performance in a certain activity, i.e., PvE quests, PvP rankings, etc., which are easily susceptible to manipulation, we will introduce a proof of achievement mechanism to award players with OIK according to their achievement. Space Nation Online has a complete methodology to measure all players' activities, including specific actions, joining limited time events, completing daily missions, etc., which ultimately become points of achievement. In each OIK distribution period, the system will calculate the total OIK number based on the current stage of the complete universe and distribute OIK to every active player based upon their individual achievement.
Rewards from the ecosystem: We incentivize all those who aid the development of the project and award OIK. This includes: promoting our products outside the game; guiding newcomers in the game on how to quickly integrate into the game; content contribution; providing liquidity and the like.
How OIK Holders Interact with the Ecosystem​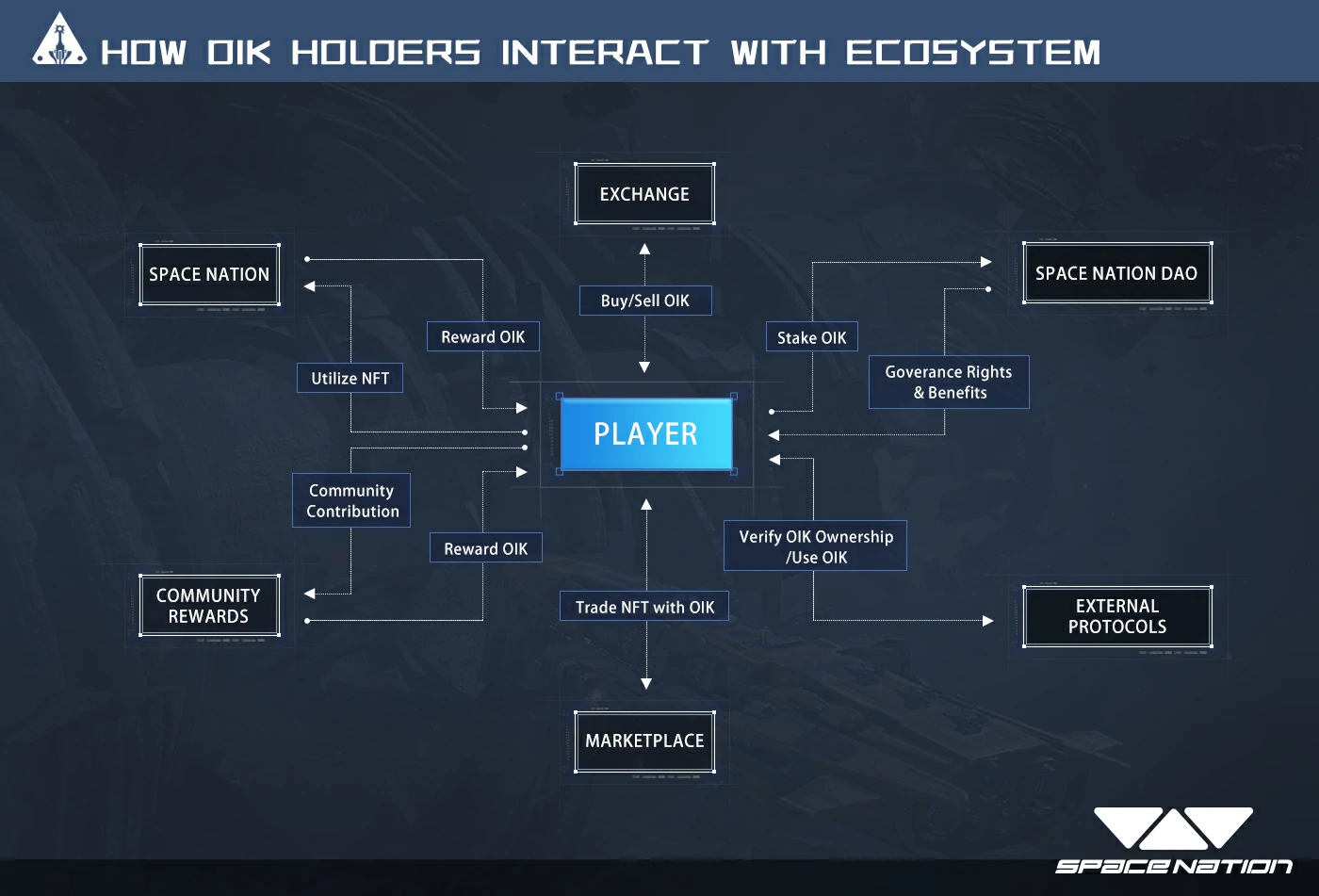 Distribution​